Lack of leadership 'plans for economy not lost' Tweets of Congress leaders Rahul Gandhi and Priyanka Gandhi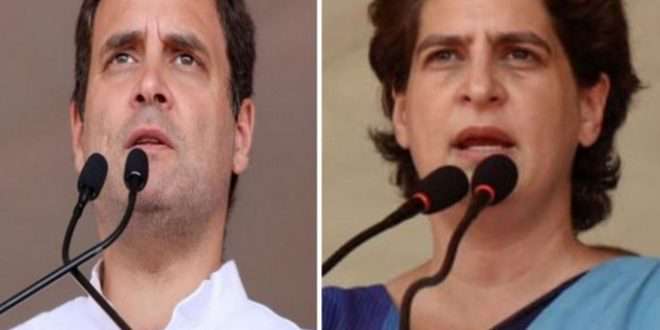 .
New Delhi . September 8 (Politics.com) The Congress today attacked the government with severe criticism, saying that there was no progress in the first 100 days of the second term of the government. Rahul Gandhi said that in these 100 days there has been a lack of leadership. There has been discrepancies and projects that are in dire need of an economy have not been shown. That is why the economy is collapsing. Congress spokesperson Kapil Sabal also criticized the government. Rahul Gandhi took to Twitter to target the Modi government. He congratulated the government for 100 days with no development. He congratulated the Modi government for completing 100 days and not developing. He said that the government was sabotaging democracy. She is eradicating criticism by grabbing gold media. These days have shown a lack of leadership and direction. The projects that the economy needed were not even shown. Congress general secretary Priyanka Gandhi Vadra also criticized the government and said that the Modi government was silent after the country's economy was destroyed.
She alleged that she wanted to hide this serious situation in the country. Priyanka Gandhi in her tweet said that the government has become silent after destroying the economy. Companies are at risk and trade is also affected. He used the hashtag 100DaysNoVikas on his Twitter, saying that the government wants to hide the real situation through drama, 'attention-grabbing' lies and propaganda. In his tweets, he said that the first 100 days of the government could be interpreted as three words cruelty, rumor and chaos. He said there were eight sectors whose growth rate was less than two per cent and the Finance Minister was still unwilling to admit that the economy was constantly falling. If the BJP continues to operate on the same level of negligence and fraud, then we are moving towards a collapse. Congress party released a video on Twitter asking BJP to reduce the utility of 'RTI law' Anti-illegal activities law 'All domestic production' Banks 'fraud,' Violence 'fall in value of rupees' Jammu He criticized issues such as Kashmir division and flaws in the NRC. Regarding mass violence in the country, the video states that mass violence has inflicted severe damage to the Indian community in the BJP government in foreign countries. Those who belong to the ruling party's ideology are involved in it and they are promoting such violence. This is a major threat to the unity of the country.