Distribution Awards for Urdu Toppers conferred on Silver Jubilee Hall by Ardwakadmi
New Delhi: 16th September.
Presided over by the Vice President and Vice President of the National Assembly on the occasion of the Distribution Awards 2018 (for UrduTransformerships, Boards, UrduServer Ficket Course, Urdu Computer Course and Urdu Book Course) at the President Silver Silver Jubilee Hall MLA Haji Ishraq of Salempur was also present on the occasion. Students are giving away rewards. This year we are fortunate that our Deputy Chief Minister Manish Sisodiajee is present in this program, Manish Sisodiaj has led an educational revolution in the public schools of Delhi which is being run everywhere. The timing is sincere and a working mode. The services of the Chief Minister and the Deputy Chief Minister for the promotion of education, especially in Delhi, will always be remembered, and I welcome the audience of my most beloved Deputy Chief Minister, Syed Shahmaghdi and the Haji elite.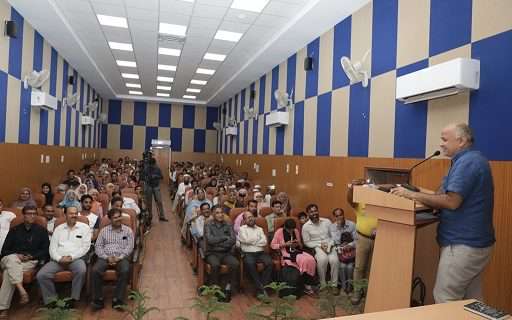 In his presidential speech, former Vice-Chancellor of Jamia Millia Islamia, Shahid Ahmadi said that Ardwakadmi is the most active and dynamic academy in Delhi. For me, I like the most. The Academy is fantastic. The students who receive the awards at Ardakademi are the future of Urdu. The Ardakademi rewards every student of the field. The idea Holds
The guest of the program, Special Deputy Chief Minister Manish Sisodiani, said that there is no difference between Urdu and Hindi. This opportunity is very important. All the public schools in Delhi have had a positive change. These schools include Urdu schools. He added that I want to not only speak here but also the students, I will ask some questions and you will answer them. Talking to him on the occasion, he asked where you find Urdu in your life. Various people have answered this question. The reply of the students was also played by the Deputy Chief Minister Manish Sisodiani. What is it for? Reading is not just a job and it is a lot. It is true that the main purpose of any education is to invest.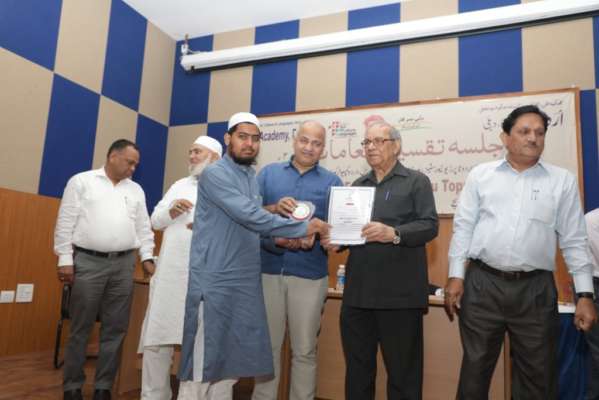 The prnayb Minister, Haji Irradiation sydsahdmhdy kaastqbal played bouquet presented by the Chairman, the Deputy Foreign Minister SM Ali azhartskrkrty, sydsahdmhdy Haji telepathy and all thanks to the audience all ardutaprzkunqdanaam Finally, mumyntuaursyldsy nuazagya.arduakadmy the Secretary of aurakadmy kya.prugram .He "Ardwakadmi is conducting such programs, the Delhi Government is always with us. The Deputy Chief Minister is especially attracted to Mardu. It is to be noted that 70 students were awarded the prizes in the distribution awards, which was distributed by about one hundred and fifty thousand. In addition to the honorable city in the program, members of the academy, FI Ismail, Fareed-ul-Haqqi Warsi and Doctorate Rasheedim.